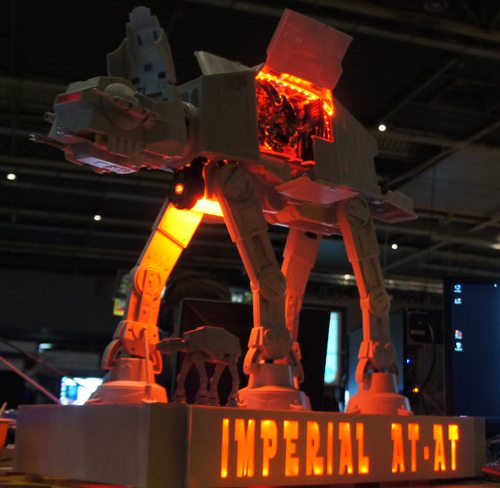 If you're a little bored with the look of your computer, then perhaps you could take inspiration from the case modding scene. Changing the appearance of your chassis might just make your PC look more appealing, and it can also show your friends and colleagues just how high-spec your machine is to boot.
Case mods may even act as a tribute to another passion, like the works created by the selection of computer-savvy Star Wars enthusiasts featured here. Inspired by the epic franchise, these modders have turned their desktop computers into everything from R2-D2 to the Death Star.
Fans of the franchise will well know George Lucas' company of droid characters, starships and various other outlandish vehicles, and modders have seen the aesthetic possibilities of these creations as well. This list will hopefully serve as encouragement for anyone looking to transform their PC. Read on to explore a galaxy of invention.

10. 501st Legion Clone Trooper Case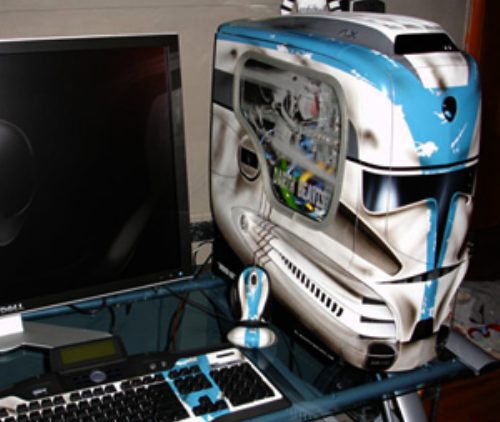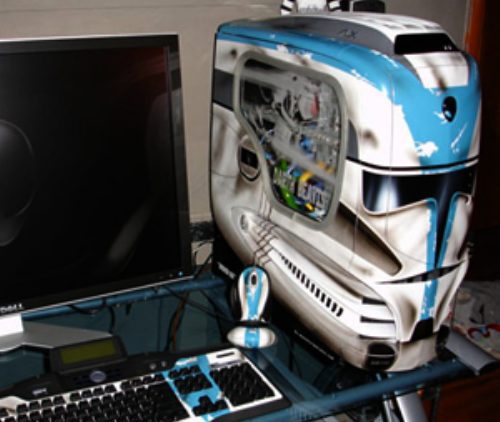 Here, some talented tinkerers produced a PC case mod in the shape of a 501st Legion clone trooper helmet. It's titled "Order 66," in reference to Emperor Palpatine's dictate that the galaxy be purged of Jedis in movie prequel Revenge of the Sith. The awesomely realized mod seems to capture every detail of the trooper's helmet – right down to the battle damage and scuffed paint – thanks to the artistic handiwork of Smooth Creations.
Mods, of course, often require the creator to reinstall the internal components of a computer inside a new, customized case. In this instance, Richard Surroz rebuilt his Dell Alienware Aurora ALX, with specs including an AMD Athlon 64 FX-60 dual core processor and two different water-cooling systems. A particularly nice touch is the laser-etched window in the side of the chassis, which shows the machine's internal components. Such panels are something that may be fitted by modders as a way of displaying the power of their gear – hardware that in this case glows a brilliant blue.
9. Sandcrawler Case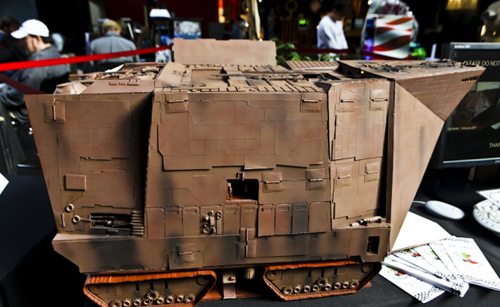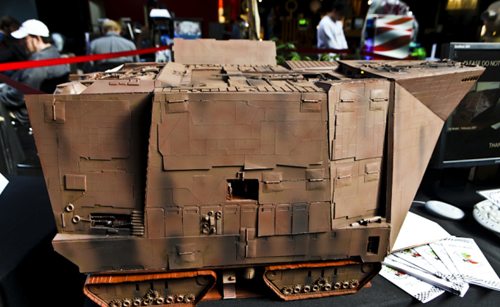 This Sandcrawler was one of the mods showcased at the Rods & Mods: The Kustom Kulture of Radical Computer Modification exhibition at San Francisco's Exploratorium in 2010. Built from scratch by David Benjamin, the meticulously constructed case houses an AMD Phenom II quad core processor and a solid-state OCZ Vertex 120GB hard drive, while its features include 143 LED lights and a miniature R2-D2 sat in the vehicle's cockpit.
This is actually Benjamin's third version of the Sandcrawler case mod, and it owes its own existence to several years of work – as well as the years that went into its maker's previous builds. Amazingly, this mod is 18 inches tall and more than 36 inches long – roughly the same size as the original movie model. Benjamin, who posts as artoodeeto on the bit-tech.net forums, based his creation on shots and line drawings of the Sandcrawler model used in the films.
8. Republic and Dark Side Cases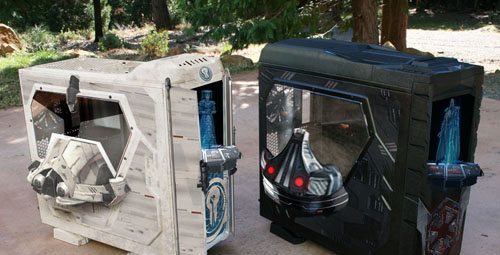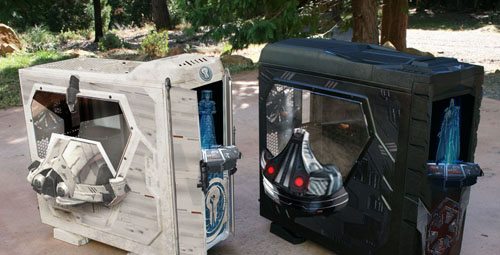 The dark and light sides of the Star Wars universe are both represented by these clever mods, which were inspired by the 2011 massively multiplayer online role-playing game Star Wars: The Old Republic. The white case mod depicts the helmeted face of a Republic trooper, while the black version shows the corresponding features of a Sith Warrior. The shape of each helmet was created by gluing pieces of cut-out acrylic in place and then filling the spaces between them with expandable foam, before attaching them to Thermaltake Chaser MK-1 (Dark Side) and Armor Revo (Republic) chassis.
The holograms you can see are actually 3D etched crystals lit from underneath. And as well as these and other contrasting decorations – standing for both the Republic and the Dark Side – the mods also incorporate some rather amazing-looking protruding lightsabers made from 12-inch cold-cathode fluorescent lamp tubes.
7. TIE Fighter Desk Case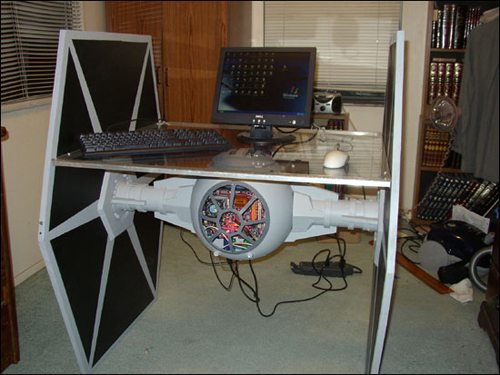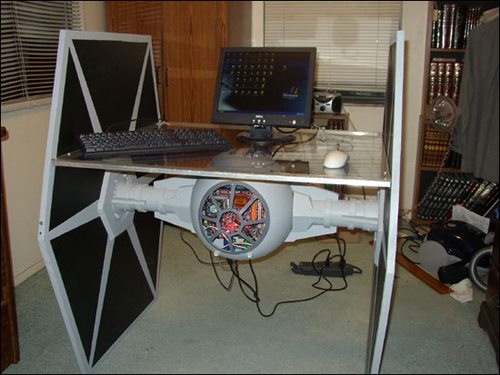 This brilliant TIE fighter desk mod was built by self-proclaimed "die-hard Star Wars fan" David Barry, from Brooklyn, New York City. The desk deservedly won ExtremeTech's weekly science-fiction case mod competition in June 2005. The plywood wings were the first part to be made, while a cut-out made from the same material inside the cockpit contains all of the computer components, including an Athlon XP 1800+ processor and a FlexATX motherboard.
Barry notes that the cockpit – which glows thanks to red LEDs – was the most difficult part to replicate. After unsuccessfully attempting to create its spherical shape with Bondo filler, Barry finally came up with an unusual solution: he used a Jolly Ball, a play toy for animals. The mod may have taken him four months of work and cost around $300, but we think the result is well worth it.
6. Millennium Falcon Case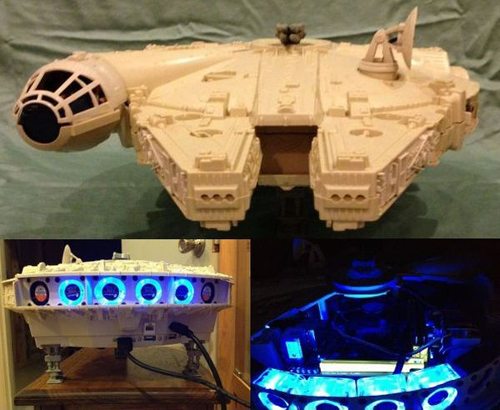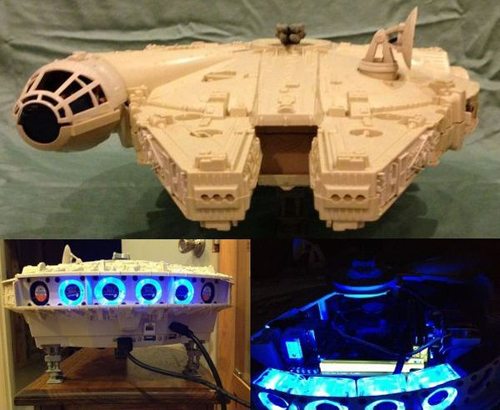 Lando Calrissian famously described the Millennium Falcon as "the fastest hunk of junk in the galaxy," but we suspect that a case mod like this won't necessarily make your computer speedier. Even so, this 2012 creation is mightily impressive looking. The case is built around a 1979 Kenner Millennium Falcon model, which now contains the components of a desktop PC, among them a "low-profile" Intel Core i3-2100T processor.
This is an awesome example of repurposing a classic toy in an innovative way – and we're particularly fond of the glowing blue LEDs used in the fan setup. If you're tempted to follow in maker Brad Jordan's footsteps and make your own Millennium Falcon mod to house your CPU and motherboard, then you're in luck: Jordan detailed the entire 11-step process on DIY website Instructables.com, including all the materials needed.
5. R2-D2 Case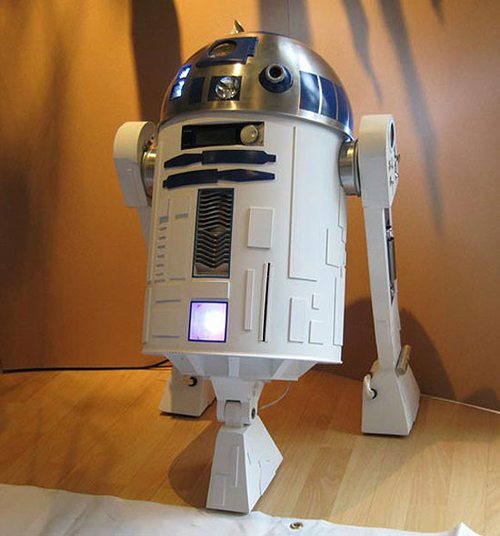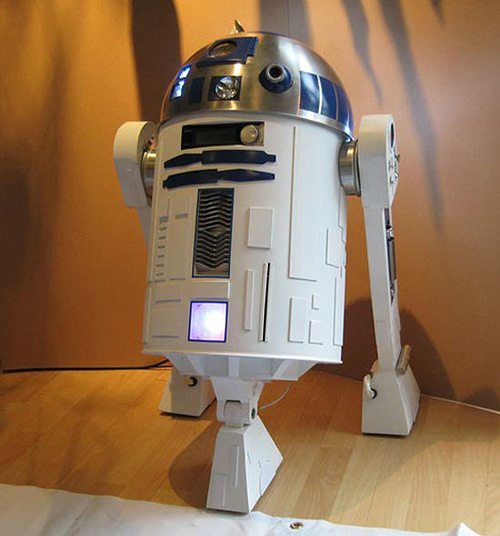 R2-D2 may have been unfairly referred to as a "virtual trashcan" by Giant Robot magazine, but this version of the droid is actually based around the use of a real one. Created by modder Frenk Janse, it was built from scratch using a home garbage bin, an old computer case, and various other odds and ends, and it even features speakers in its MDF legs. A webcam "eye" projecting through a hole in the case completes the effect.
Janse noted in 2009 that the mod only cost him around $120 to put together, although his sponsor SpacePromotion gave him crucial parts such as fans with LEDs. Elsewhere, hardware-wise, an old Pentium 4 2.8 GHz office computer was used. Now, if only this droid could hack into the Death Star's system like R2 himself.
4. Scout Trooper Helmet Case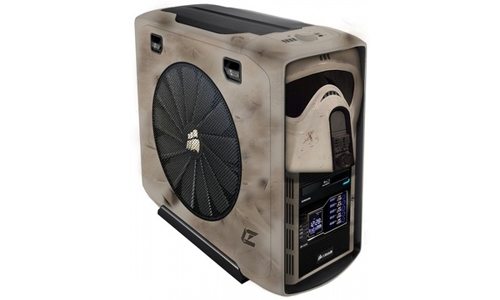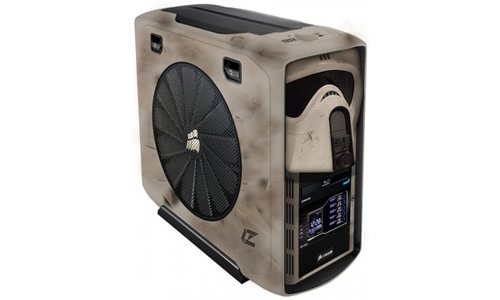 This design was produced by a modder known as Nada, and in 2011 it won a competition hosted by Dutch website Hardware.info. It's based around a Corsair Graphite 600T case, and the design showcases a Scout trooper's helmet. The attention to detail is especially notable – particularly the worn effects, which make it seem as if it's seen its fair share of battle.
Unfortunately, the design is only a concept and wasn't created in the real world when it was entered into the competition. If it were put together, the mod might require the use of acrylic, expandable foam or other such materials to model the features of the trooper's helmet. Hopefully, Nada has since gotten around to realizing his vision with his winnings.
3. Han Solo Carbonite Case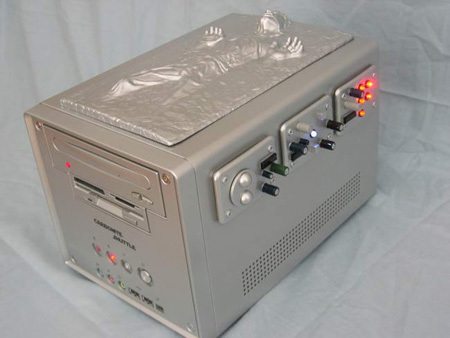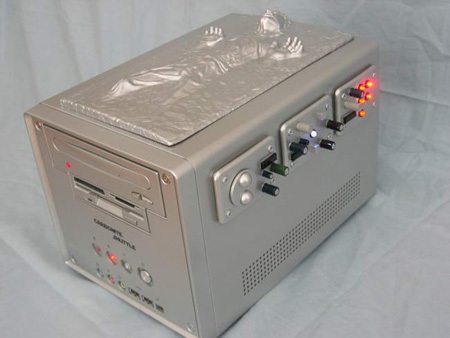 Another winner of one of ExtremeTech's case mod contests, this cool piece of customization picked up the spoils in July 2006. Depicting Han Solo sealed in carbonite, it's the work of modder Russ Caslis. Although the hardware inside the mod is just spare bits and pieces Caslis "had lying around" such as a 2.4 GHz Pentium 4 processor, the detail on the outside more than compensates.
Laid out on top of a Shuttle Inc. small form factor case, the frozen figure of Solo looks much as he does when this cruel fate befalls him in The Empire Strikes Back. The control panels on the sides of the case feature flashing lights and LEDs and were designed to mimic the appearance of an actual prop used in the films. And with the whole thing painted silver, the overall effect is, well, almost chilling.
Interestingly, the Star Wars movies' own computer science credentials are impressive – at least according to Commander Kevin Blenkhorn, who took up a graphics role at George Lucas-founded Industrial Light & Magic after serving a decade of active duty with the US Navy. Blenkhorn worked on The Phantom Menace and Revenge of the Sith, explaining that his colleagues "pushed computer science to the max, further than any other company." Blenkhorn himself is now an associate chair of the Computer Science Department at the United States Naval Academy.
2. Death Star Case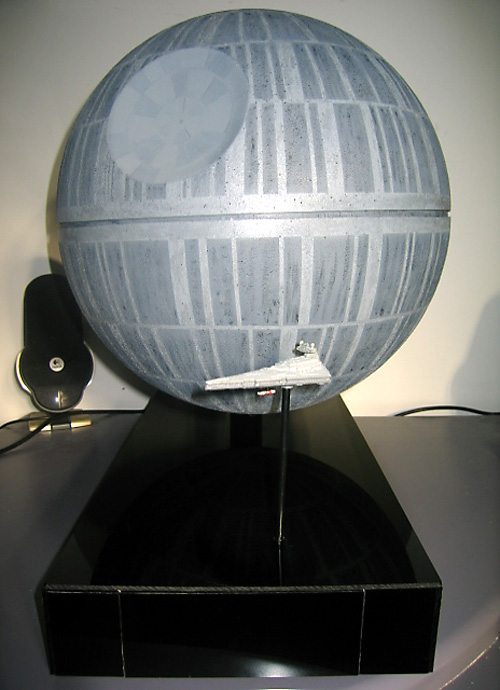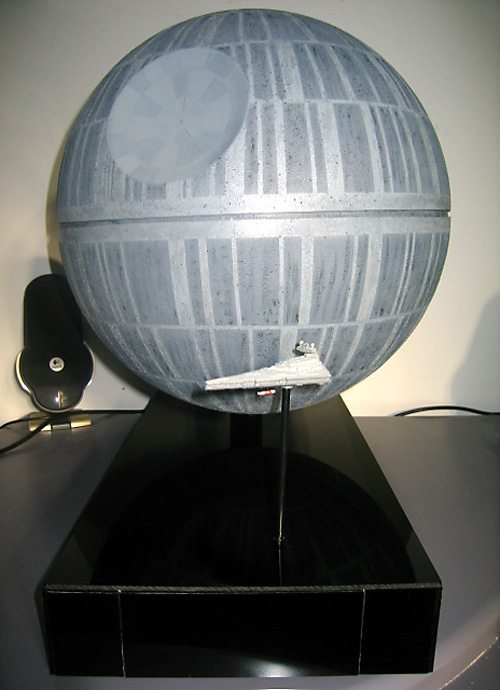 This Death Star mod from 2009 might pay tribute to the infamous Imperial space station-cum-super weapon, but we'd hope, at least, it's not as potentially destructive. It was created by modder Derek using two Perspex lampshades, which were joined together in the middle to produce one continuous case.
The computer's hardware includes a water-cooled Intel Extreme quad-core processor and a DFI LANparty motherboard. Hundreds of tiny holes were drilled in the outer surface to allow air and light to escape, after which it was sprayed with glue and glitter – to give it texture – and then painted. A fan was also mounted inside an Imperial logo cut out at the back.
The small Imperial Star Destroyer in the foreground actually acts in part as the computer's on/off switch: tapping the Rebel blockade runner at its base controls the power supply. And the smaller Destroyer model also features power and hard drive activity lights.
1. AT-AT Walker Case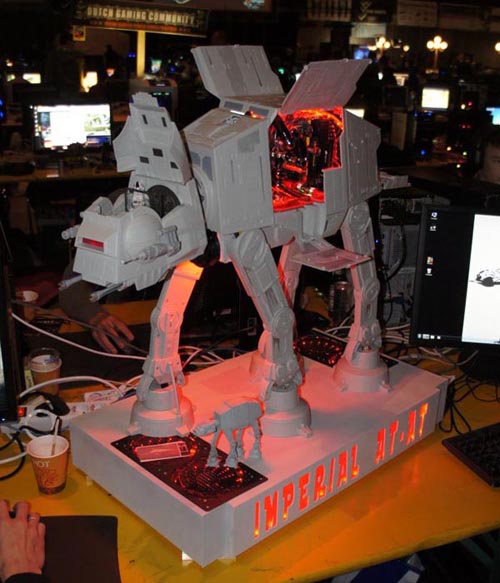 The Imperial AT-AT walker case pictured above is probably the most spectacular-looking mod we've seen yet. The assembly was created by Star Wars fan Asphiax and features a shell based around Hasbro's 2010 Imperial AT-AT walker – a gigantic model around 24 inches tall and 28 inches in length.
This setup uses an Intel Core i7-2600K processor and a Sapphire 6870 graphics card and includes 8GB of RAM. It also incorporates an intricate water-cooling system, plus red LED lights that show off its internal components in the dark. Website CraveOnline describes the AT-AT walker as "one of the coolest mechanical monsters in the entire Star Wars legacy," and in our opinion, this case mod more than does it justice.